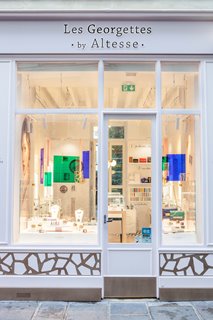 "Maison Altesse" revives its history, by opening its first store in the heart of Paris in the district of "Le Marais".
The official opening for press and influencers took place on 18th October 2018, and put in the front this new parisian adress, among professionals area.
Two separate sessions were organized. A morning press, with journalists of women's and fashion magazines, and an after-work evening bloggers, among them the very popular « Leaelui » (7.3M of followers), « Noholita » (672k followers), « Babithome » (101k followers) and « Dianne Perreau » (98.7k followers).
During this day, journalists and influencers created their own jewelry thanks to a workshop " Bar à Clips " and where given a « Les coutures » set.
To perfect the presentations, we organized a " Week-end Privilege " for consumers, including two private evening parties on Friday 19th and Saturday 20th October.
Watch video